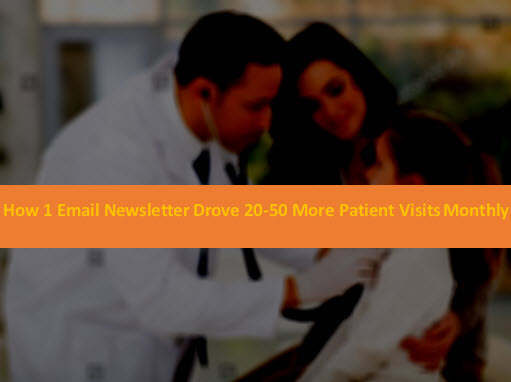 By Tanya Handy
During the past several years, I've written copy for small business owners worldwide. Over time, I've helped them grow their businesses using the power and reach of the web, and had the chance to learn from great marketing examples, too.
If you spend time studying direct marketing techniques and methods as much as I do, you no doubt run into some really smart ways to gain more business.
May I share one story that I heard about not too long ago? The story is all about how one doctor got anywhere from 20-50 additional patients entering his clinic and spending money on services (and the way he does it every month).
The irony is how what he did is so simple yet so effective.
I connected with the doctor recently on a webinar and he told me the story of how he stumbled onto a Monthly Email Newsletter Model that worked so well for him.
I'm going to walk you through the doctor's exact model so that you can use it in your business, too. Believe me, this is worth implementing in your business, even if you're not a health-related service provider. Continue reading "How 1 Email Newsletter Drove 20-50 More Patient Visits Monthly"