In a USA Today article, Rhonda Abrams, a publisher of books for entrepreneurs, tells small businesses to show pride in the fact they are THE group the public trusts most.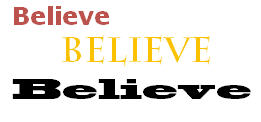 Yes, that is right. But, get this…
Small businesses are even more trusted than churches, according to the Pew Center for Research who conducted research to conclude the findings.
Why is this so? Well, one commenter to Abrams' article explains the phenomenon by saying that people like buying from small businesses because they are "personal/personable (REAL)" towards their customers.
If you are like me, you want to do what you can to show the public you value their trust ALSO. How can you do this?
Tip: Commit to sending marketing messages that educate potential customers about what you sell, and which provide credibility-boosting elements that a potential customer can use to evaluate whether your product or service is the 'real deal'.
When you produce educational and credible marketing, you will be using two top ways of maintaining trust in your small business.
To trust in small businesses,
Tanya